ON-SITE COACHING
If you are someone who constantly has to modify exercises due to movement limitations, plateaued on your strength numbers, or can't stay consistent with training due to injuries, on-site coaching is for you.
This is a functional strength and conditioning program where you work one on one with Dr. Hendricks. He incorporates clinical knowledge into your training to create the best and safest results.
REMOTE COACHING
Are you battling through injury but want to continue to train at your highest level? Do you want to push your boundaries safely and without risking injury? Maybe your work schedule doesn't allow you to make it to a scheduled group exercise class.
The Remote Coaching option is a complete program that will bulletproof your body so you can do whatever you want to do safely, for the rest of your life. By design, you will simultaneously build strength, mobility, and body control. You will receive 4-week program blocks.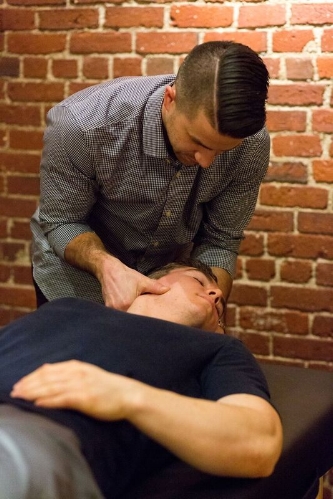 Treatment
Are you in pain? Were you working out with a trainer or participating in a functional fitness class and want to get back to that?
Treatment with Dr. Hendricks is the most effective and efficient way to do so. He is a doctor that understands training, and a trainer that understands pain.
The goal of Treatment is not just to save time by eliminating long, drawn-out generic treatment plans, but to give you the knowledge and tools to maintain your future health.